Mission Statement
We strongly oppose the use of anabolic steroids or any illegal or banned substances. Our purpose is to bring you legal alternatives to help you achieve your goals. Our products contain only ingredients that are well established dietary supplements and contain nothing illegal or banned in the U.S.
Testosterone and Muscle Building
Testosterone Benefits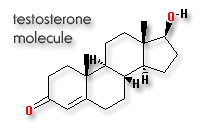 Increasing your "testosterone" levels has many potential benefits. You know some of the symptoms of low testosterone levels. Higher testosterone levels in the bloodstream can lead to:

elevated energy levels
better mood
increased strength and muscle mass
stronger sex drive
fat loss
improved eyesight
improved memory and concentration
general feeling of well-being
stronger bones

Clearly these are very positive effects that we could all benefit from.

Get Your
FREE Anabolic
Workout eBook!
Our Products